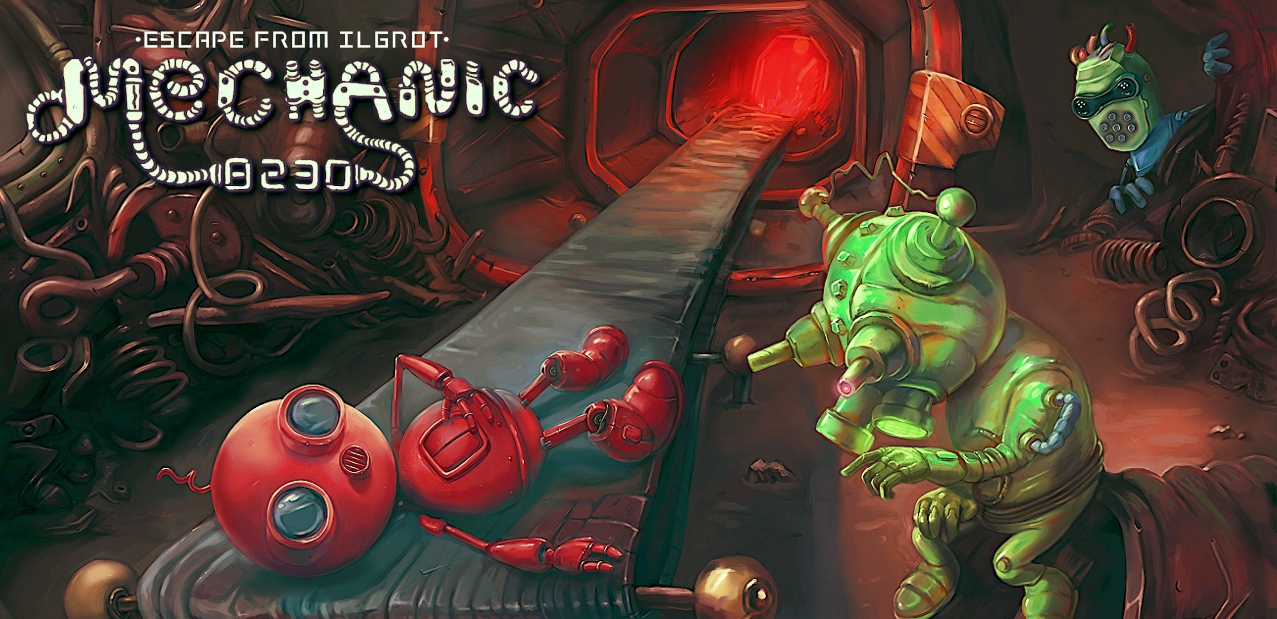 Mechanic 8230: Escape from Ilgrot
[24/02/2018] Mechanic 8230 — Pre-Alpha v0.0.4
---
Mechanic 8230 — Pre-Alpha v0.0.4
[24/02/2018]
Updates:
Cardinal changes of the top menu from which will moving down the panel for display details of the radiation-protective suit. There are also new location in top menu for chips and added two new icons: messages from the robot and the button for opening panel with radiation-protective suit. Modified and icons of the top menu;
New selection of objects as a light green outline;
Adding to the basic of style the dominant light green glow which will emphasize manufacturability;
The language in the game will be only Russian and English, now the choice is made in the main menu and the whole thing is saved;
The serious visual changes in the main menu;
Realized the game settings and their preservation, such as: language selection, sound volume, screen resolution, shadow. This is a huge step, thanks to Andrei Voloshin;
The PDA now performs the function of an automatic translator, information from chips is displayed in the language that was selected in the menu. And it was enlarged to fit more text.
New system of saving via Global dict, thanks for the help to Andrey Voloshin;
Improved and completed the script, the feed of which will be through chips, messages from the robot and of course through the visual;
In the process of creating the unique and awesome soundtracks for Mechanic 8230, from Alexandr Zhelanov, 3 of which are already available in the demo. You can listen to them in our blog;
New painted poster in which cable car located against a background of a shelter.
Follow us!
Want to keep up with the latest project updates? You can find more information here:
Files
mechanic_8230-demo_pre-alpha_v0.4_win64
141 MB
Feb 24, 2018
mechanic_8230-demo_pre-alpha_v0.4_linux64
179 MB
Feb 24, 2018
Get Mechanic 8230: Escape from Ilgrot